WOMEN'S WELLNESS!


Volume XIII Number 4: Strengthening Your Romantic Relationship
---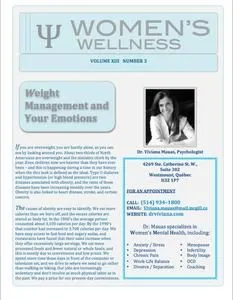 Volume XIII Number 3: Weight Management and Your Emotions If you are overweight, you are hardly alone, as you can see by looking around you. About two-thirds of North Americans are overweight and the statistics climb by the year.

Getting the weight off involves more than going on a diet, although a calorie-restricted diet is essential for losing excess pounds.

Even with a good diet and exercise, maintaining weight loss over time can be a challenge. Most people who lose weight gain it back again because they haven't come to terms with the emotional factors that were associated with the weight gain in the first place.

Download this newsletter to read about how emotional factors are associated with weight problems, and how these issues can be addressed in therapy.
---
Volume XIII Number 2: Making Life Changes
As a woman, you may face unique challenges, which may include juggling the caregiving of children
and or aging parents, negotiating relationships with adult children, while holding full or part-time employment.
All these challenges may interfere with your sense of accomplishment and kindle a desire to assess your situation and lifestyle.
When should you consider that a life change is needed?
A key to successful change is knowing the stage you are in for the problem you are working on.
This newsletter will help you identify the stage of change you are at and what you can do to move forward towards your goal.
---
Vol XIII Number 1: Breaking Up - It's Hard To Do
Breaking Up, Separation, and Divorce Can Be Devastating – But May Also Provide the Opportunity For Self- Examination and a New Beginning.
There is nothing easy about ending a love relationship. Breaking up is seldom the ideal resolution to problems within relationships, but all too often is the outcome, despite our best efforts to prevent it. Over the past two or three decades, about half of all marriages have ended in divorce, and the statistics for cohabitation (or living together) are higher than this. The person who was once your best friend and your companion for life, the one who knew you better than anyone else, has now
in some ways become your enemy. You cannot believe that this has happened. How could that love have been destroyed?
---

Please note that this newsletter is solely intended to offer general information and recognizes that individual issues may differ from these broad guidelines.
Personal issues should be addressed within a therapeutic context with a professional familiar with the details of the problems.

Do not hesitate to contact me for further information.

If you would like to receive my newsletters, please fill out this form: